[vc_row][vc_column][vc_column_text]
MYRNA  YOUNG LIFE COACH
Certified Professional Life Coach, Author, Realtor, Host of the Transform Your Mind Radio Hour and Podcast.
[/vc_column_text][vc_column_text]
Myrna Young,  is a Certified Professional Life Coach, Author of the Best Selling book "Out of the Snares, a story of hope and encouragement", Realtor, and Host of the Mindset Transformation Radio Show and podcast.
MYRNA YOUNG, RADIO PODCAST and TV TALK SHOW HOST 
Reach a local and worldwide audience as a, TV Talk Show  sponsor, of the Preach the Word Worldwide TV Network.  Sponsor the Transform Your Mind TV Talk show, Radio and Podcast Show. Your message will be seen locally on Comcast channel 29 Atlanta and surrounding areas plus worldwide on Apple Tv, Amazon Fire TV, Direct TV, Android tv. Heard on WDJY 99.1 FM in Atlanta and 11 podcast players.
On the Transform your Mind, radio, TV Talk show and podcast, Myrna teaches her listeners how to use  strategies for their mental and spiritual evolution to "Live their Best Lives Now" by taking their dreams out of the realm of the intangible and bringing them into form, manifesting their goals into their reality.
Subscribe on your favorite podcast player
MYRNA YOUNG REALTOR, SOUTH FLORIDA
As a Realtor, Myrna Young, brings her authentic self to Help her clients acheive their housing goals.  Whether she is helping Millennial's purchase their first home, or seasoned, multifamily investors, with a portfolio of real estate properties; she offers the same quality of service, getting her clients the best deal they can get as buyers or sellers.
If you are looking for the best Real Estate agent to Help you sell your home? Myrna Young, is the one:
Here are a list of things, I do to market your home:
Place a unique For Sale sign on your property.  One that stands out and garnishes attention.
I will write captivating Ads, and take professional photography to showcase your property.
Take a video of your property and upload to YouTube.  According to NAR, 90% of home buyers searched online during their home buying process.
Our company Century 21 Selling Paradise is one of the Top Brokerage in Florida.
In addition to YouTube, your home will be #1 on Google search and on these websites: Realtor.com, Zillow/Trulia, Redfin, Movoto, REaltyTrac, Homes.com, Facebook, Stumbleupon, Digg, OK, VK, Pinterest, Tumblr, Blogger, Google+, Twitter, Reddit, Linkedin, and more.
If that's not enough, I give your property additional exposure with the use of brochure boxes filled with professional grade brochures and additional invitations to any open houses.
Here is What, Myrna Young, does for Multi-family Investors
Access to off-market listings nationwide
Access to on market listing in Miami, Tampa, Fort Myers
Deal evaluation with NOI and cap rate
Access to wholesale properties for Fix and Flip properties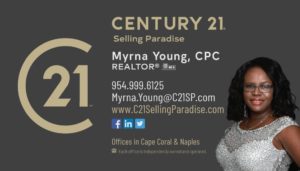 Myrna Young Life Coach,
Millennial
coach, Transformational Coach
Myrna helps her clients achieve success by teaching them how to shift their Mindset and that begins their Transformation. As a Millennial Coach, Myrna Young,  Helps her clients Advance their Careers, Point their Mindsets towards success, Improve their Relationships,  and Maximize their Health and fitness.
Her foundation for coaching is first understanding her clients true self, helping them become conscious of how their beliefs and behaviors drives them to where they are today.
Myrna Young life coach,  has changed the trajectory of her life from a poor, abused child from British Guyana, to Living her dreams as a successful entrepreneur in the U.S.A.  If God can do it for me, he can do it for you.  Let me Help You.!! 
http://myhelps.us/contact-us/[/vc_column_text][vc_column_text][/vc_column_text][/vc_column][/vc_row][vc_row][vc_column][vc_column_text]
[/vc_column_text][/vc_column][/vc_row]