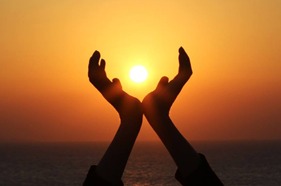 Introduction Power of Love
The, power of Love, in Christianity is taught by Jesus, teacher and the Son Of God. He teaches us to love our neighbor as much as we love ourselves. The message is first you must love yourself. Loving yourself is more than providing the necessities of life for oneself. It is more than finding good employment, providing for one' s family, a nice house and some money in the bank. It is deeper than that.
Love is spirit. It can be felt by strangers. It is a force of good and a power that connects us all. When you love yourself you take time to know and acquaint yourself with this force.  We are dually physical and
non-physical beings
. Unfortunately most of us only concentrate on the physical because that is what we see.
The power of love, can be seen in how we love ourselves because we take care of our bodies. We exercise (some of us). We eat nutritious foods that nourish our bodies (some of us) and we protect ourselves from the sun and get the recommended amount of sleep (again some of us).  But how often can a stranger feels your love because you gave them a welcoming smile?
How often do you find a quiet spot and pay attention to your breathing, your source and the center of your spirit? How often do you feel the love from a flower or from the stillness of a tree? God shows his love for us by the beauty he created in nature. When we show our appreciation for nature we find God and his love for us.
Have you ever felt love from an inanimate object like a painting or a building? I visited the Taj Mahal earlier this month. It is one of the seven wonders of the world because of it's beauty. It is a testament to the, power of love.  When you visit the
Taj Mahal
you feel the love for which it was intended.
The building was constructed to immortalize Emperor Shah Jahan's love for his wife.  So Love your neighbor as you love yourself, extend that love past the boundaries of your family and friends and the world will indeed be a better place to live.
The power of love in Hinduism
In, Hinduism, we see the, power of love, in the eternal love of Radha and
Krishna
has been the subject of great religious and philosophical imagery and is one of the foundational ethos of Hindu dharma.
The love of Radha and Krishna is not rooted in physicality. On the contrary it is allegorical. The Lord says "the mind that constantly remembers me, comes to dissolve and revel in me". Radha is the personification of this deeply devoted mind. The pain of Radha's separation from Krishna is the pain of the estranged soul searching for the embrace of the universal spirit. Radha is the individual and Krishna is the essence and objective of life.
Radha is always the chosen one, but when Radha realizes the pride of having the Supreme Lord all to herself was coloring her mind, he disappears from her heart. Krishna then multiplies himself to be present between every two Gopis. The Gopis are believed to represent thought waves.
The presence of Krishna between every two  Gopis, symbolizes that the eternal truth exists everywhere, and it can be perceived by the true seeker even between two thought waves. Radha represents the purest and most beautiful amongst these divine thoughts and Krishna represents the supreme bliss that can be attained by dedicating one's mind to the divine.
The Power of love as seen in Buddhism
Buddhism is both simple and profound in the, power of love. On a daily basis it advocates watching the mind so that all thoughts, actions and words manifest a kind and compassionate attitude towards all others. It is the loving heart that places others above self. Herein lies the ultimate wisdom of existence. When you understand that the existence of all things, all beings, and all concepts is empty except in relation to other things, beings, and concepts, then you will be close to
becoming awakened
, crossing into a state of permanent happiness.
When you succeed in eliminating ignorance and replacing it with real wisdom, suffering comes to an end; because in understanding the true nature of existence you are no longer bound by the illusions of Samsara. It is Karma – the law of cause and effect- that gives life it's moral code.
The Buddha thus advised doing everything to create good karma, for this has the power to propel you into a rebirth in circumstances that are conducive to practicing Dharma. Thereby having the chance to attain enlightenment. Practicing Dharma means showing generosity, having a good heart, purifying negative karma, and creating good karma. It also means embarking on a spiritual path that leads to enlightenment. (Excerp from
The Buddha Book by Lillian Too
.)
To learn more, please contact Spiritual Life Coach 
Myrna
 Morris Young for a free one hour coaching session.
Myrna Morris Young, Life and Executive Coach Author "Becoming Conscious, my Awakening" Email: myrna@myhelps.us Phone: 954-999-6124 Toll Free: 888-569-3182