Wouldn't it be nice if we could go to the doctor and tell him our, failure, symptoms and he would give us a diagnosis of success or failure?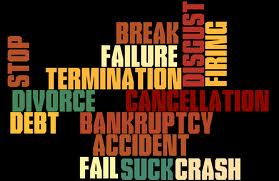 How often have you said "life is short"? Well It is! We are here on earth for a limited time to fulfill a purpose. Wouldn't it be nice if we could go to the doctor and tell him our life symptoms and he would give us a diagnosis of success or failure? For example if you go to the doctor today with itchy bumps and a fever, he would look at you and without running any tests diagnose you with the chicken pox.
How to deal with Failure
Recognizing your, failure, symptoms early in life before you get to your 5th or 6th decade is the only way to take action to modify your behaviors.
Here are 5 symptoms of failure.

1. Sleeping too much.

Do you sleep more than 6 hours per night or day? Thomas Edison took only 2 hour naps on his desk while he was working on his inventions. He didn't want to sleep because he was so invested in his work. He called sleep a waste of time.
I read Donald Trump's biography and he said that he hated going to sleep because he was so excited about his business and he didn't want to miss anything.
Donald Trump credits only sleeping for three or four hours with staying ahead of his competition. "How does somebody that's sleeping 12 and 14 hours a day compete with someone that's sleeping three or four?" he's said.
Political leaders across the globe run their countries on short spurts of shuteye. President Obama has said he can get by on a four-hour doze. Former British Prime Minister Margaret Thatcher ran the U.K. for a decade, on four hours a night.
The saying "the early bird catches the worm" is meant to tell you that waking before dawn is best if you want to be the best at what you do. If you go to bed early and sleep late, that is a failure symptom that you will not be successful.
2. Are you an Introvert?

A shy kid might look longingly at other kids playing in the schoolyard, afraid and unsure about how to approach them, but an introvert is perfectly content on her own.
Laurie Helgoe

Introverts are sometimes called the "walking sleepers". Introverts usually allow activity to pass by them without participation, indulge in time killing pursuits, taking only the most minor role or unconstructive parts. Introverts are also the solitaire players, the pathological bookworms, the endless crossword puzzlers, the couch potatoes. In order to succeed in business or life, you need to have the ability to sell yourself, you need social skills. You don't have to be the life of the party but you must be able to be comfortable at the party.
3. Are you drinking more than 2 drinks daily? This is a failure symptom
Drinking heavily brings on a waking sleep. Drinking affects your ability to think straight and handicaps the drinker. You will not be able to contribute fully in staff meetings, argue sensibly, plan or be proactive if you are under the influence of alcohol.
4. Extreme extroverts
"I always thought I was an extrovert until I became a theatre major. Then I realized I just didn't like silence."
― Cora Carmack, Losing It

Do you count the day lost if you did not attend a dinner party, go to a movie theatre, dancing at a club or hanging out with friends? To be successful you need time alone to plan, to be creative and to ponder your next move.
5. Having no goals is a symptom of failure
Dr William Menninger says "a fellow must know where he wants to go, if he is going to get anywhere"

No goals are bad enough but low goals are worst. Is your goal to just keep your job and make just enough money to pay your bills? Is it to live to retirement and then collect social security? Or is it to be the top player in the "candy crush" video game?
The bible says "people without a vision will perish". Not necessarily physical death, but spiritual death. It is exhilarating to work towards a goal. Happiness is defined as working towards a goal.
"We are at our very best, and we are happiest, when we are fully engaged in work we enjoy on the journey toward the goal we've established for ourselves."

The great leaders and legends of our time, all had goals, vision, mission and as they achieved one goal, they started on the next.
Join me for a Free webinar on how to set and achieve clear goals, how to create vision and mission statements, how to motivate your staff to excel and how to create influence.