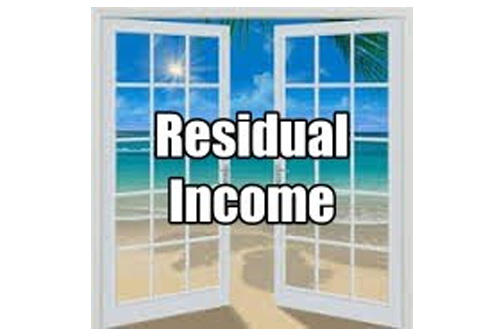 RESIDUAL INCOME
FOR
FINANCIAL FREEDOM
Residual Income For Financial Freedom
DEFINITION of 'Residual Income' The amount of income that an individual has after all personal debts, including the mortgage, have been paid. This calculation is usually made on a monthly basis, after the monthly bills and debts are paid.
Do you have a Best Selling Novel inside you? Then self publishing could be your ticket to, residual income.
Did the Lord give you a testimony? Then use it to give Hope and Encouragement to others.
Do you have a vivid imagination and can tell a good story? As a Best Selling Author, you can make money while you sleep.
If any of these statements resonate with you, then this is one of the ways to create, Residual Income.  A Best Selling Book can earn you millions of dollars and you only have to write it once!
Check out MyHelps Book Coaching Package for more information on creating your very own Best Selling Novel.
Another path to having, Residual Income, is to become an Entrepreneur and offer a service that is needed by the general population.  Do you have an innovative mind?  Then you can design and manufacture a product that will fill a need on the market.  Have you seen the movie "JOY?"
Joy made millions by designing and selling a mop that housewives found useful.  There are millions of new and innovative products every year.  You could be the next Steve Jobs!
Or maybe you have a skill and you could offer service.
What is your natural ability or talents?
As your coach, I will coach you to understand your natural ability and direct you in offering this talent to the Universe because that is what God intended for you to do with it.
Maybe you are called to be a Life Coach, I am offering certification classes at a fraction of what I paid to receive my certification.  Checkout MyHelps Certification Coaching Package .
In 1992, I started my own Limousine Service because I was good in Customer Service and Sales.  I took that company to becoming the largest female owned Limousine Service in Toronto, Canada and then I took my company international by opening a branch office in Miami, Fl. Today I am the Founder and CEO of MyHelps Coaching and Consulting Services, An Author of 3 books, Talk Show Host and Motivational Speaker.
I can coach you in your start up Enterprise.  Download my Free EBook "Small Business: How to Mind Your Own Business While Working Your Day Job." This book teaches you how your side business can help you with Residual Income.
If you need Help with a plan, then email me to set up your Free Strategy Session.
My email is info@myhelps.us