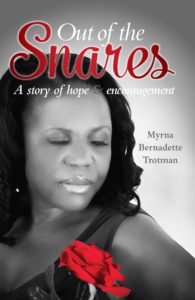 Out Of The Snares, Life Coaching book, is an Uplifting New Book and Exposes Ten Principles Any Woman Can Deploy to Grasp their Destiny and live a life by design and purpose.  
 Written from the wisdom and experiences of Certified Life Coach, Myrna Bernadette Trotman, This, life coaching book, 'Out Of The Snares: A story of hope and encouragement' fuses Scripture and Universal Laws to empower any woman to leave her dark days behind and embark on a new life of abundance. Trotman has been through life's worst but, living true to the word of God, has since triumphed in her own pursuit of the American Dream. Readers can now do the same. Order this, life coaching book, 
 Fort Myers, FL – Like millions of women in the United States alone, Myrna Bernadette Trotman has been forced to suffer the realities of abuse, poverty and debilitating lack of direction. However, those walking past her on the street now see a totally different persona – one of confidence, vitality and true happiness.
But Trotman admits that the transition wasn't easy, requiring diligent and often tough adherence to the word of God and Universal Laws of Truth. Now a Certified Life Coach and committed to helping women everywhere find their own dominance in the world, Trotman is delighted to announce the release of 'Out Of The Snares: A story of hope and encouragement' and her first, life coaching book.
Synopsis:
In OUT OF THE SNARES, MYRNA BERNADETTE TROTMAN shares her story of child abuse, poverty and her success as an entrepreneur. As a certified Life Coach she shares in this, life coaching book,  ten undeniable resources she used to help her achieve success and live the American Dream. This inspirational and motivational, life coaching book, will help you to reach your potential and achieve new levels of success in your life. Get these ten principles based on biblical principles and Universal Laws, deep down in your spirit and boldly go in the direction of your destiny:
Keep Your Vision in Front of you – Dare to dream big dreams and understand the principles of vision casting.
The events in your life whether good or bad, work together for good – God said I know your expected end. Stay the course; don't give up until you win.
Let the Universal Laws of Attraction, the Laws of Intention work for you – Ask and it will be given unto you.
Have a Positive Mind-set – Take control of your thoughts and attitudes. Get rid of ANTS (Automatic Negative Thoughts)
Use what you have in your hand– You were created with a purpose; God gave you the skills and talents you need to complete your task. Stop waiting for the right time.
Be intentional about your Growth- Be proactive, be intentional, build on your gifts, and continually improve.
If you build it, they will come – Be a servant first.
Find your Passion – it is the Fire in your belly. Become conscious of what lights you up. God put that Fire in your belly as a beacon to achieve your purpose.
Love – it is what makes this Human experience worthwhile. Love yourself first. Love is spirit, God is spirit.
Business Consciousness – how to create a startup company and succeed in marketing.
"The strange thing is that I'm not really sharing any new, just helping women harness and deploy the power that already harvests inside of them," explains Trotman. "I want women to realize that, whatever curve balls and adversity life throws at them, they contain all they need to crawl back, prosper and live a better life than their aggressors ever will. The secrets lay in the Bible and the series of Universal Truths it creates."
Continuing, "My, life coaching book, will help any woman find their purpose, plot a course for achieving it and actually embark on that journey; a journey they may currently feel is impossible. I was once in the depths of my own despair, with no positive outlook. How different and amazing life now is!"
With the volume's demand expected to increase, interested readers are urged to secure their copies without delay.
'Out Of The Snares: A story of hope and encouragement' is a, life coaching book, is available now: http://amzn.to/1IEEpRr.
Click above to receive a PERSONALIZED AUTOGRAPHED COPY from Myrna Bernadette Trotman.
**** PRICE INCLUDES SHIPPING & HANDLING ****

Click above to receive a Life Coaching Special with Book purchase 2*30 min sessions
**** PRICE INCLUDES SHIPPING & HANDLING ****