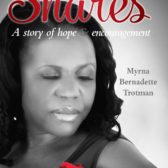 Myrna Morris Young
Life Coach, Mindset Coach
Winning the, Game of Life
Are You a Victim of Sexual Abuse, Mental Abuse, Child Abuse or Abandonment and Still Carry That Hurt With You Everyday?
Do you wake up in the middle of the night remembering the smells of your abuser and forgetting where you are?

As a mother, are you over protective of your children? Wanting to be sure nobody abuses them like they did you? 

Have you been divorced several times or you are not able to  have a lasting healthy relationship because you are not able to trust?

Are you stuck in a dead end job and can't find the strength to acquire the skills for a better job?
I know how you feel.  I have been there.
It has taken me over 30 years to get to a place where I can talk about my abuse. 
Let me Help You.
"Change the way you look at a thing and the thing you look at will change"
The bible says, You have to be healed before you can serve the bread. You cannot ever lead others or find happiness, if you have the, Mindset of a Victim.
In Leviticus 21:18 Winning the, Game of Life
God gives four Mindsets that will negatively affect your ability for him to use you to serve the bread.
Before you can feed others, you have to be healed.
"No man who has any defect may come near: no man who is blind or lame, disfigured or deformed;"
You can't be blind, not physically blind; but you need vision to serve. Whether it be your family, your vocation, your community.  You have to see beyond your current situation or your past.

You can't be lame. Again God was  not talking about physical limitations; but the lameness that comes from brokenness. God is not going to use you to tell your story until you can first speak to yourself.

You can't be disfigured. Is your sexual abuse making you walk in shame? Has it left you disfigured? What do people see when they look at you? God says he can't use you if you are disfigured. You have to find the "Beauty in your Ashes." When your spouse looks at you, does he see the disfigured you? How has your past abuse affected your current relationship? Change your focus on winning the, game of life.

What is your deformity? Are you bent over like a hunch back? What is the long term effect of your abuse or neglect? Is the weight of it weighting you down so you have become a hunchback? Walk upright like you are winning the, game of life.
"Myrna has been my coach for the past 6 months.  I highly recommend Myrna as a coach. She asks great questions to help me reflect my passion, so I could win the, game of life. Her deep listening skills, compassion, and enthusiasm enlightened me to focus on what's most important in my life. As a result, I have started taking specific actions to achieve my goal. It's not easy for me to clearly understand my purpose of life. The weekly coaching sessions with Myrna tremendously helped me to take time out of my busy life, to reflect, and re-focus on living a life with purpose. I feel very fortunate to have this amazing coaching experience with Myrna!"
---
Jenny W, Consultant,
Learning Measurement & Metrics at Office Depot, Boca Raton, FL
"Myrna has captured the essence of business communication and development, in her unique style. Her sessions will spiritually drive individuals or groups to fulfill their objectives and further enhance their creative mind. As she delves deeply into your mind, during her live seminars, to capture your inner thoughts about the business you are building, so you would be empowered to win the, game of life. This has empowered me to remodel my business plan, complete business goals and focus clearly on the mission statement, towards reaching clear and tangible targets."
---
Tennis R, Director,
PDA International, Bristol, UK
"Hi my name is Colleen after many years in the spa industry I felt unsettled. I decided to meet with Myrna Young, Life Coach, She definitely helped me win the, game of life and I ended up buying the company I worked for. She has helped me focus and remember the strengths I have. She also reminded me my fate is up to me. I feel empowered to win!"
---
Colleen B,,
Owner / Medical Esthetician at Integra life Esthetics, Fort Myers, Florida
Remember that
"Time waits for no man".
Every day wasted is a Day you could never get back