The, Transform your Mind podcast media kit, showcases highlights of the Transform Your Mind personal development podcast.  The Transform Your Mind podcast is a weekly podcast about life.
Our mission is to positively help women and men, renew their mindset, so they can, transform their lives. We discuss topics on, transformation: mental health, fitness, nutrition, healthy relationships, overcome fear, happiness and more.
What is the Transform Your Mind Podcast is About
The Transform Your Mind podcast is hosted by Life coach and author Myrna Young.
Our audience are women and men who want change.  Since change starts in the mind, my audience want to be inspired every week on how to improve themselves daily whether it be fitness, mental health, relationships, or any other areas of self-development.
Myrna engages women on topics on changing their mindset on health, engaging the laws of attraction and setting goals.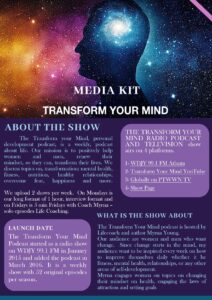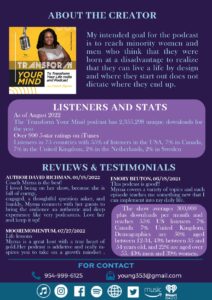 The Transform Your Mind Radio Podcast and Television show airs on 4 platforms. 24 podcast players, WDJY 99.1 FM Atlanta https://www.wdjyfm.com/  https://www.youtube.com/c/MyhelpsUs/videos
Globally on https://www.preachthewordnetworktv.com/
The show page is https://blog.myhelps.us/
We upload 2 shows per week.  On Mondays is our long format of 1 hour, interview format and on Fridays is, Transformation Fridays, with Coach Myrna – solo episodes Life Coaching.
LAUNCH Date Transform Your Mind Podcast Media Kit
The, Transform Your Mind Podcast, started as a radio show on WDJY 99.1 FM in January 2015 and added the podcast in March 2016. It is a weekly show with 52 original episodes per season.
My intended goal for the podcast is to reach minority women and men who think that they were born at a disadvantage to realize that they can live a life by design and where they start out does not dictate where they end up.
Transform Your Mind Podcast latest reviews

Author David Richman, 01/18/2022
Coach Myrna is the best!
I loved being on her show, because she is full of energy, engaged, a thoughtful question asker, and frankly, Myrna connects with her guests to bring the audience an authentic and deep experience like very podcasters. Love her and keep it up!
MooreMomentum, 07/27/2022
Life lessons
Myrna is a great host with a true heart of gold. Her podcast is addictive and really inspires you to take on a growth mindset 🙌
Emory Beuton, 06/18/2021
This podcast is good!!
Myrna covers a variety of topics, and each episode teaches me something new that I can implement into my daily life.
Transform Your Mind Podcast Media Kit Stats
The show averages 350,000 plus downloads per month and reaches 55% US listeners 7% Canada 7% United Kingdom. Demographics are 50% aged between 12-34, 43% between 35 and 54 years old, and 22% are aged over 55. 43% men and 39% women.
As of October 2022
The Transform Your Mind podcast has 3,023,034  downloads for the year
Over 900 5-star ratings on iTunes
Listeners in 75 countries with 55% of listeners in the USA, 7% in Canada, 7% in the United Kingdom, 2% in the Netherlands, 2% in Sweden
Transform Your Mind Podcast Online and social
Social Media Following of 35,000+ on Facebook, Instagram, LinkedIn and Twitter.
Links to Podcast on Apple podcasts https://podcasts.apple.com/us/podcast/transform-your-mind/id1144973094
Spotify:
https://open.spotify.com/show/7ga87nmW2V3Jb9IU7AUJrf
Amazon music
https://music.amazon.com/podcasts/233afe40-3a25-4e47-b755-9c75947764fa/transform-your-mind
IHeart Radio
https://www.iheart.com/podcast/269-transform-your-mind-81438587/
Website
Facebook
https://www.facebook.com/profile.php?id=100063738390977
Facebook Group
https://www.facebook.com/groups/193005424200128
Twitter
https://twitter.com/myrna_young1
Instagram
https://www.instagram.com/myrnamyoung/?hl=en
CONTACT US – Transform Your Mind Podcast
Questions? Comments? Looking for more information? Have a high-quality guest? Just let us know by emailing us at myoung353@gmail.com