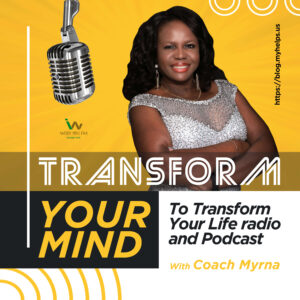 Sponsor this, Looking local audience for your service or product plus Global exposure from a worldwide podcast? Sponsor the Transform Your Mind Radio/Podcast
Sponsor This Show-  Transform Your Mind Radio show and Podcast.
`The mission of the, Transform your mind, Radio, and, podcast is to positively empower women around the world to improve their lives by Transforming their minds. To Help women use faith and belief that they can make their dreams a reality.
Tune in every Wednesday at 5 pm on the afternoon Drive  www.wdjyfm.com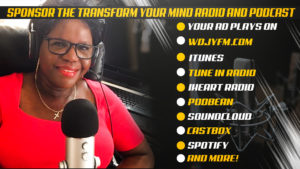 Why Sponsor This Podcast?
I asked the question on Quora 'Why was podcast marketing was on the rise" 
Simply put, because audience is large, consuming, podcasts, frequently, in variety, and much longer than other media. Best yet, this audience continues to grow year over year.
Podcast, creators in turn provide not only variety but also depth of conversations so advertisers can pick exactly the audience they want, and activate a very relevant message to that particular message.
The facts and details:
Large audience: in the US alone, 40+ million people listen to podcasts on a weekly basis. Almost 70 million on a monthly basis!
Growing audience in all demographics: year over year growth of 20–25% in all demographics and ages
Variety of shows and episodes: for the people that watch, the average number of podcasts watched is 3+, and the average number of episodes is 5+ on a weekly basis
Long exposure: average duration of an episode being around 1 Hour, that means that Podcast listeners spend on average 5 hours listening to audio weekly. Compare that to the (continually plunging) number of hours spent on newspaper, magazine, radio, and TV… very competitive
Personable like never before: the Podcast experience is a very intimate one. People are either adding colors to the stories they are told, putting themselves into the topics, or having their questions answered. It's a new level of connection to media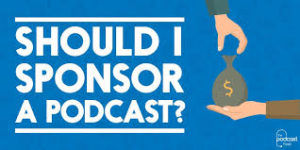 As a, podcast, sponsor this is a compelling case to consider, podcasts, as media vehicle investment:
Finally, clearly defined audiences: with other media, specially broadcast, marketers were speaking to larger audiences, but also very diverse. Only mass-adoption products would make economical sense for advertising.
So we can tell ever more relevant stories and thus powerful messages: With, podcasts, interests are narrowly defined. This is a marketer's heaven: tell an unique, crisp, interesting idea to an audience that is known. This message specificity will drive massive action: Product consideration and purchase, adherence to social communities, and increased loyalty and recommendation.
I see a promising future for, podcasts, and, podcast sponsors, the opportunity to connect with people in a personable yet scalable way.
As a, podcast, sponsor  for the Transform Your Mind Radio Hour and podcast. Your message will be heard on the radio by more than  30,200+ weekly listeners, plus on all the podcast players, including  iTunes podcast, Tunein, Stitcher, Google Play Spotify, Castbox, Soundcloud, iHeart Radio, and on my YouTube video Channel, Apple, Spotify, Google, Amazon,  Pandora, iHeart Radio, TuneIn + Alexa, Podcast Addict, Podchaser, Pocket Casts, Deezer, Listen Notes, Player FM  and  Blog. Check out our,  podcast, sponsor   packages and rates below.
About this Podcast and our audience
The Transform your Mind radio and, podcast, airs every week on the afternoon drive 5 pm to 6 pm on WDJY 99.1 FM, in the Metro Atlanta area and on the internet on internet radio at www.wdjyfm.com. The target audience are minority women between the ages of 25  to 55 years old who want to improve the quality of their lives through Life coaching and a Mindset shift.
Why Sponsor The Transform Your Mind Radio Show and Podcast

Podcasting is one of the most talked-about forms of modern entertainment, because it combines the advantages of on-demand digital media and mobile in a format that is singularly intimate.

Why, Sponsor this, podcast, 

Sponsor this, because, Podcast listeners,  are educated. Have a Bachelor's degree or higher and read a lot
32% of them listen while they work out
52% listen in the car
37% listen while taking public transportation
46% listen while travelling
40% listen while walking, running or biking
Podcast listeners, are loyal, 88% listen to all episodes
Podcast listeners, are engaged, 61% of them buy something they heard about on a, podcast AD.
More women are listening to, podcasts
Sponsor this, podcast because African Americans are a growing, podcast, demographic.
Millennial's are the most desirable age demographic
Repetition is key.
One spot, one time, on one show simply won't generate the results you're after. Sponsor this, podcast for a series of shows and build brand awareness.
"Ideally, find a host/show which you feel is a good fit and commit for a year. Gather data on how your customers found you, and run the numbers at around month nine when you're determining whether or not to renew."

Defining Success: Performance Indicators

To define success and best evaluate your test, it's important to know what your performance indicators and desired outcomes are.

Are you driving traffic to your website? Are you looking to boost sales? Are you trying to increase awareness of your brand? Do you measure that awareness on social media?

When you, sponsor this, podcast, your indicators will probably be some mix of these and others, but likely will vary based upon your campaign type.

Evergreen advertising: Your, podcast, marketing message will be in print on my  blog and YouTube Channel,

As well as repeat radio shows and podcast downloads.
Limited Time Offer! Buy one get one FREE
PODCAST, SPONSOR, Pricing and packages:
Package #1 Premium Pay for 6 ADs get 6 ADs free
12*60 sec commercials/ 1 per show for 12 shows.
Mid – roll, Played at 1 breaks on the Radio/ Podcast Players
Price $75.00
Package #2 Standard Pay for 3 Ads get 3 FREE
6*60 sec commercials for 6 shows.
Played at 1 mid-roll break and all podcast players
Price $50.00
Package #3 Basic Buy 1 AD get 1 FREE
Host read Podcast Sponsor.
2*60 sec commercials for 2 shows.
Two shows  Radio/Podcast
Price $20.00
SPONSOR THIS, PODCAST, ADS DELIVER EFFECTIVE RESULTS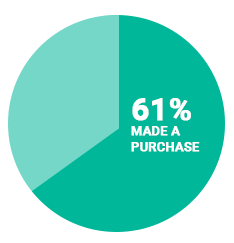 PODCAST LISTENERS, BUY PRODUCTS
FROM, PODCAST SPONSORED, ADS
61% of, podcast listeners, say that they bought something after hearing an ad on our shows.
SPONSOR THIS, PODCAST AND DRIVE MORE ENGAGEMENT TO YOUR WEBSITE
In a three month head-to-head test against radio, Sling Media found 2 – 3 times more engagement from their podcast ads.
PODCAST SPONSOR, PRICING AND PACKAGES
When our, podcast sponsors,  endorse an episode, it sends a message to the listeners that you value personal development and positive change.